Banking and insurance
For decades, we have been navigating ever-changing, complex system landscapes and helping our customers stay on top of things. We support you in keeping your systems modern and state of the art and also in implementing legal or typical market requirements in projects.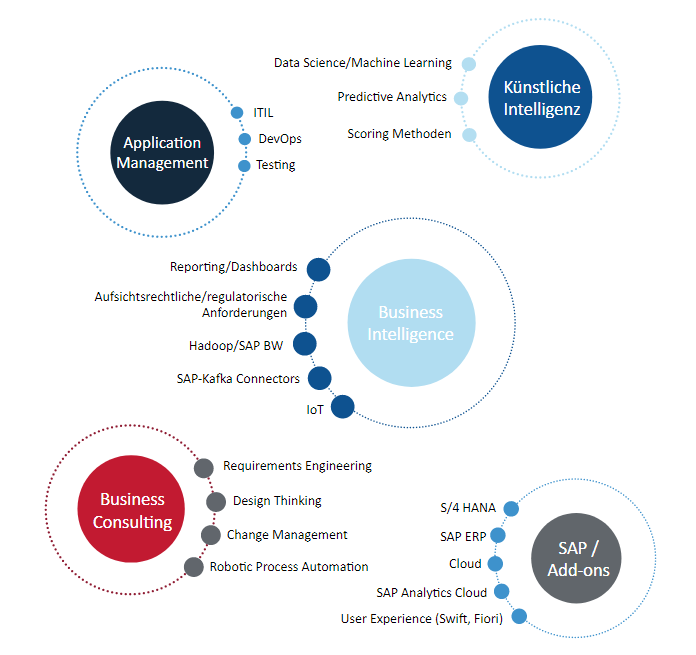 Years of expertise
INIT has been active in the banking and insurance sector for more than 25 years and has been able to build up comprehensive industry knowledge in countless projects. We support our customers in regulatory, legal and technical challenges in a straightforward, eye-to-eye and customized manner.
Our main areas of focus in the banking sector are:
Application management of existing systems and applications
The development and implementation of individual SAP solutions and add-ons
The technical support for regulatory and legal issues (e.g. DSGVO, Euro conversion, risk assessment, etc.)
Supporting steps into the future regarding automation of process steps (RPA), application of artificial intelligence to support arrears management.
Tools for the industry
For example, we offer RPA, an AI solution tailored specifically for banks
RPA
Many processes and tasks within a company are repetitive, time-consuming and therefore also cost-intensive – Robotic Process Automation (RPA) provides a solution here. With automation, efficiency and process quality can be improved through fewer incorrect entries. In combination with AI, even more complex processes can be automated
SAP Add-Ons
We have a wide range of industry-neutral solutions that address common issues our customers face. You can find more information about each solution below. If there is nothing for your problem, please contact us so that we can develop an individual solution for you.
Our projects
Here you will find a small selection of projects that we have successfully implemented in the banking environment over the last 25 years.
Development of the receivables management system "SAM" in SAP
The aim of this project was to set up an active and automated receivables management system that is closely integrated with the accounts receivable department. With SAP Arrears Management (SAM), a solution was developed that flexibly supports the collection process for overdue payments and automates it as far as possible.
Migration des Bestandsscoring-Prozesses in den SAP Bank Analyzer on HANA (FRDP)
Various scoring procedures are used in credit decision-making processes, including the results of regular portfolio scoring. The goal of this project was to adapt the existing inventory scoring process according to the customer's new BI strategy (GetOne BI).
Accounting for risk provisioning according to IFRS9
The fundamental goal of the project was to convert the accounting for risk provisioning to the new accounting standard IFRS 9. The challenge of the new implementation was the introduction of the impairment engine as well as SAP AFI, which had to be integrated into the customer's existing architecture (SAP BA on HANA).